What got you interested in polymer clay as a medium?
I really had nothing to do, and found polymer clay after looking at a few beads that someone was selling. I originally wanted to make glass beads, but I couldn't get all the equipment for it. So I headed down to my local craft store, and they had clay! Bought a few packs, made some terrible looking beads, but it definitely wasn't boring. I made more beads after searching for tutorials online. I also came across photos of miniature food and was curious whether I could really make some myself. Oh boy, did I get hooked on that. And so, here I am, making miniature food and turning them into jewellery and accessories!
Of everything you have created which is your favorite?
I will have to say that I really like my glittery purple cupcake, because it's purple and other people seem to like it too! I now use a photo of it as my avatar.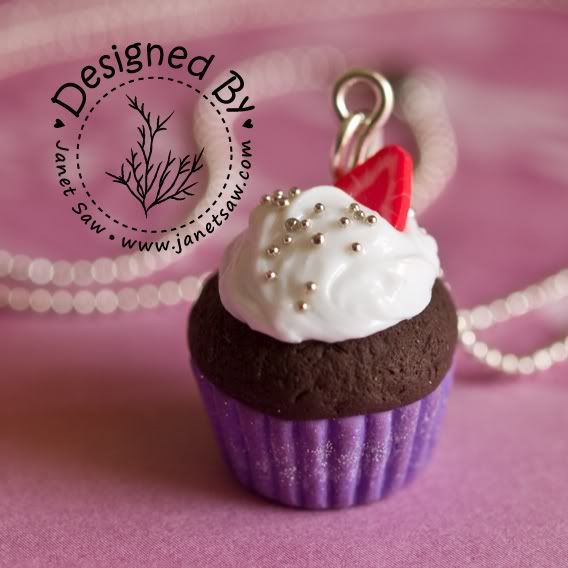 What do you prefer to make out of polymer clay and why?
Before I started being more confident with fruit canes, I would have said anything besides making canes. Now, I think it's the most rewarding thing I can make. I spend almost 3 hours making one cane, but the outcome usually satisfies me and I can use those cane slices to decorate my other creations. I don't do this every day, so I think that's why it is exciting when I decide to make a new fruit cane!
How do you decide what to make?
I have a few ways to make my decision. One, I take a look at my inventory on ArtFire/Etsy, and see what is missing and think of what I'd like to include next. Two, I have a look at recipe books, but usually this doesn't work out, as I can't make a decision on which recipe to make! Three, if I have new fruits that I haven't used, I will try to come up with ways to put them in my foods.
Is there something you wish you could make in clay that you have not yet?
Quite a number of members have used alcohol inks and liquid clay to make gorgeous beads. I don't even know how they did it and I wouldn't have the patience for that. Perhaps one day, I could learn their techniques too. I also would like to make those big-hole beads with metal cores. I think they are really fabulous for bracelets.
What makes polymer clay a better fit for your products than other mediums?
Polymer clay allows me to make miniature foods with a lot of realism, and I don't have to worry about the clay drying up while I work. Baking to harden is a brilliant invention. With polymer clay, I can make creams and icings with ease, and keep them in jars for when I need them. I can sculpt textures into my cakes and tarts, and even paint clay with soft pastels! It's so versatile.
What is your best advice for someone starting out in polymer clay?
I can only give some advice for miniature food, and I would say that you really need a bunch of equipment such as shape cutters, pin/needle, brushes, varnish, soft pastels, and glass microbeads. You need these to make your food look good enough to eat! Take a look at other artists' work when you start off, because you can learn a lot by just looking at their finished items. Of course, every now and then, read real tutorials and get some miniature food books -- they come in handy when you need to look up a technique.

Visit JanetSaw.artfire.com